We have been designing healthcare facilities for 15 years. We have a set of professional puzzles that can be combined in any configuration tailored to the client's needs.  Znamy tajniki projektowania zaawansowanych technologicznie placówek medycznych. Lubimy piękne wnętrza spa, wellness, medycyna estetyczna i tworzymy je dla naszych Klientów. Współpracują z nami branżyści znający specyfikę branży medycznej i doświadczeni wykonawcy. Jesteśmy w stanie zaprojektować zarówno salę operacyjną jak i przedszkole integracyjne, lokalną przychodnię czy elegancki medi hotel.Przedmiotem naszych zainteresowań są parametry fizyczne i chemiczne wpływające na zdrowie oraz samopoczucie użytkownika jak: akustyka pomieszczeń, jakość powietrza, wody, doświetlenie pomieszczeń oraz możliwości dezynfekcji obiektu. Swoją wiedzę wykorzystujemy do zaprojektowania luksusowych wnętrz medycznych oraz przyjaznej wizualnie architektury, ergonomicznego układu funkcjonalnego, które wraz z parametrami well helth building tworzą wnętrze, które pozytywnie wpływa na zdrowie Użytkownika.

CLINICS
OPERATIONAL BLOCKS
ONE DAY HOSPITALS

OUTSIDE
SPECIALIST OFFICES
DENTISTRY

PHARMACY
LABORATORIES
PHARMACEUTICAL PRODUCTION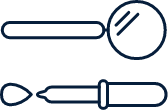 AESTHETIC MEDICINE
COSMETOLOGY
LUKSUSOWE WNĘTRZA MEDYCZNE



SENIOR HOUSES
TEACHING
CENTERS

BEFORE SCHOOL
CHILDREN'S
DEPARTMENTS

VISUAL IDENTIFICATION
PROJECTS
GRAPHICS




RESEARCH CENTERS,
TEACHING
CENTERS


FURNITURE
MEDICAL STANDS
EXHIBITIONS


We participate in the investment process from the stage of finding the premises, concept through the detailed design, arrangements with the sanitary station, orders for materials and equipment, workmanship, construction supervision, medical brand branding. We have well-established, many years of practice, advanced knowledge in the field of medical technology, as well as excellent knowledge of the latest interior trends and extensive knowledge of the finishing materials market, including those dedicated to healthcare. This allows us to design professionally equipped medical interiors and at the same time warm up their image so that patients and staff feel comfortable in them. PROJECTS, CONCEPTS, CONSTRUCTION PROJECTS, MEDICAL TECHNOLOGY CONTRACTING, SUPERVISION,
REPLACEMENT INVESTOR RESEARCH WORK, CONFERENCES, SCIENTIFIC ARTICLES ART MED,
MEDICAL EXHIBITIONS,
BRANDING
OUR CUSTOMERS AND INVESTORS