The healing power
of good design.
We have been designing for the broadly understood health service for over 15 years.
We work for hospitals, aesthetic medicine clinics, medi
hotels, retirement homes. Every stage of the investment is important to us
from technology design to an attractive finish. Carefully
we listen to our investors. We know how to create interiors,
which allow doctors to treat professionally and patients
recover effectively in comfortable conditions.
Our competences

A highly specialized team of architects

Experts in the design of medical facilities

A team of technologists with narrow specializations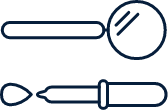 Knowledge
of the medical industry and its equipment

Many years of experience in designing wellness&wellbeing